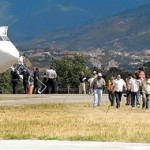 THIS WEEK IN IMMIGRATION:
Can Arizona Afford to Implement S.B. 1070?
As the deadline for signing/vetoing Arizona's immigration enforcement law (S.B. 1070) draws near, Arizona Governor Jan Brewer has more than just the moral and ethical implications of the law to consider. The proposed "Support Our Law Enforcement and Safe Neighborhoods Act," a bill that makes it a misdemeanor to fail to carry proper immigration documents and requires police to determine a person's immigration status, could come with heftier price tag than people may realize. While the Arizona legislature has not yet determined the costs associated with S.B. 1070 (the state legislature failed to attribute a cost in their attached fiscal note), several economic indicators reveal the potential cost of implementation to Arizona taxpayers and the residual consequences of driving unauthorized immigrations out of Arizona.
Read more…
Turning Up the Heat on Immigration: New Arizona Law Spurs Need for Immigration Reform
The passage of Arizona's proposed anti-immigration enforcement law last week has spurred an outcry of critical voices–including the Arizona Association of Chiefs of Police, religious leaders, immigration advocacy groups and a slew of political leaders–disavowing the bill as a license to racially profile and as "open season on the Latino community." The proposed law, which Arizona Governor Jan Brewer is expected to sign Saturday, encourages Arizona police officers to investigate immigration status based on a "reasonable suspicion" that a person is in the country illegally. Yet, as the proposed law continues to garner media attention for its harsh and draconian spirit, it has also unintentionally shifted public and congressional attention toward reforming our entire federal immigration system–an overhaul that would likely discourage states like Arizona from taking federal immigration enforcement into their own hands. Read more…
Keeping the Dream Alive: Sens. Durbin and Lugar Ask Administration for Deferred Deportation for DREAM Act Kids
Senators Richard Durbin (D-IL) and Richard Lugar (R-IN) have done something that is increasingly rare in Washington-they have issued a bipartisan request for a concrete change in immigration policy. Today, Senators Durbin and Lugar asked Secretary Janet Napolitano to defer deportation of students who would qualify for the DREAM Act. As the lead sponsors of this bipartisan legislation (S. 729)-which would give legal status to students who arrived in the U.S. before the age of 15, have lived in the U.S for at least five years, and are pursuing their education or serving in the military-they have a particular interest in the fate of students who are caught right now in the clutches of deportation. Read more…
The Nativist Resurgence of the Radical Right
The April 19th anniversary of the 1995 Oklahoma City bombing is a grim reminder that the United States is far from immune to the dangers posed by home-grown extremists on the radical right. In fact, as the Southern Poverty Law Center (SPLC) notes, the radical right is experiencing a resurgence at the moment that is "driven largely by an angry backlash against non-white immigration… the economic meltdown and the climb to power of an African American president." SPLC has found that the number of "nativist extremist" groups in particular, "organizations that go beyond mere advocacy of restrictive immigration policy to actually confront or harass suspected immigrants-jumped from 173 groups in 2008 to 309 last year." Hate crimes against Latinos are up as well. The recent guilty verdict in the killing of Ecuadorian immigrant Marcelo Lucero serves as an example of how deadly these hate crimes can be. Read more…
 

Supporting Immigration Reform in Nevada is More Pragmatic than Political
In Sunday's local Las Vegas newspaper, the Review Journal, Senate Majority Leader Harry Reid reiterated his support for immigration reform and pushed back on the paper's editorial staff who have long rallied against fixing our broken immigration system. Senator Reid's reiterated support came on the heels of a speech he gave a week earlier in Nevada where he called for immigration reform to be completed this year and a later comment stating a timeframe for moving legislation. There is, however, more to Senator Reid's recent support for immigration reform than mere political gains. Read more.